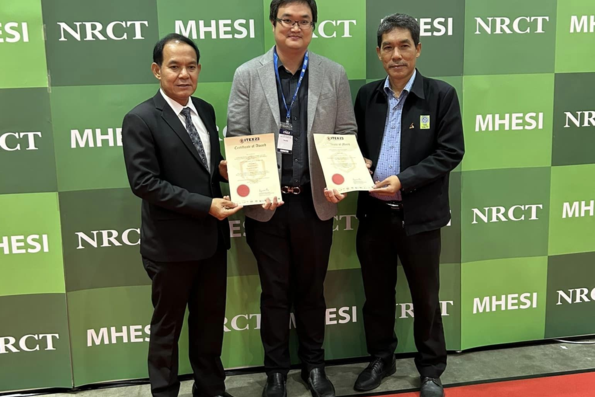 KMUTNB Researcher Wins Gold Award at ITEX'23 for 'MEMBRANOX' Innovation
Asst. Prof. Dr. Peerapong Pornwongthong, Assistant to the President for Research and Innovation Development, has achieved international recognition by winning the Gold Award at the 34th International Invention, Innovation, and Technology Exhibition (ITEX'23) in Kuala Lumpur, Malaysia. Besides the Gold Award, his innovation, 'MEMBRANOX,' developed in collaboration with Assoc. Prof. Dr. Noppavan Chanunpanich, has also been granted the WIIPA Special Award by the World Invention Intellectual Property Associations. This recognition emphasizes the invention's intellectual property value, further highlighting its potential for commercialization and real-world impact.
The 'MEMBRANOX' innovation is the outcome of extensive research conducted by Asst. Prof. Dr. Peerapong Pornwongthong and Assoc. Prof. Dr. Noppavan Chanunpanich from the Department of Industrial Chemistry, Faculty of Applied Science. 'MEMBRANOX' presents a breakthrough in the area of membrane technology. This recognition at an international platform highlights the expertise of Thai researchers, as well as their efforts to pushing the boundaries of scientific knowledge. Also, this creation reflects the KMUTNB's commitment to advancing the research development.
Gallery