1959
The journey of KMUTNB, started as far back as 19th February 1959, when it was called the Thai-German vocational college. The success of its creation could be accredited to the awesome academic co-operation between the Thai and German governments.

1964
In its early days, KMUTNB was just an affiliate to the Department of Vocational Education, which was under the supervision of the Ministry of Education. As time went by, there became a growing necessity for greater aspirations, such as grooming its students to perfectly suit the challenges of the booming technical and Industrious society. This tactical approach of achieving academic and applicative glory, led to its undisputable integration by the Ministry of Education on February 19th 1964, into a college status. Thai-German technical school as it was called, now became Thai-German Institute or North Bangkok College.

1971
Seven years later, three technical colleges: North Bangkok College, Telecommunication College and Thonburi technical college, were merged and restructured into a tertiary level institution and renamed King Mongkut's Institute of Technology North Bangkok. The coronation ceremony was auspiciously presided by His Majesty King Bhumibol, Rama IX. Thereafter, the Institute was transferred to the administrative claws of the Ministry of University Affairs, and was separated into three autonomous Campuses: Latkrabang, Thonburi and North Bangkok.
1986
On the 19th of February 1986, all three campuses of King Mongkut's Institute were converted from colleges to University status. The North Bangkok campus was assigned the name of King Mongkut's Institute of Technology North Bangkok.

1997-2003
The focus of KMUTNB became the training of students in science and technology to become technicians, engineers, researchers, scientists, technical teachers and also administrators in the field of education, business and industry.
The willingness of expanding its educational system to regional areas, led to the creation of another branch in Prachinburi. The first students commenced studies in the Faculty of Industrial Technology and Management in 1997, and in 2003, students were admitted into the newly created Faculty of Agro-Industry.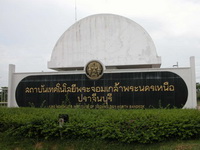 2010
Last February 2nd 2010, KMUTNB designated a new Faculty named the faculty of Architecture and Design. Its creation is to address the problems and inefficiencies faced in the Arts and design sector. The new Faculty is expected to train students who upon graduating will refurbish the commercial and arts sector of Thailand. This move shows the tactical anticipating abilities of KMUTNB towards Academic expansion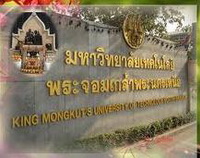 KMUTNB has gradually assimilated the German system of Education, which is to produce highly qualified science and technology oriented professionals fashioned for industrial services, and also some of the finest researchers in the Southeast Asian region. KMUTNB students are four time champions of world Robocup rescue championship. As concerns academic cooperation, KMUTNB has strong cooperation with Universities in Germany, France, Japan USA, and China. At the moment, KMUTNB has 2 international institutes namely the Sirindhorn International Thai German Graduate School (TGGS) and Thai-French Innovation Institute (TFII). These Institutes, are hosts to some of the worlds most up to date scientific and technological research laboratories, and has produced a great number of manpower.