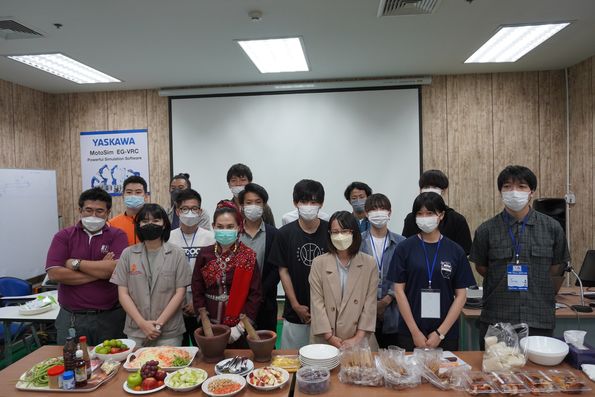 Kyutech Students to Attend the Project Based Learning (PBL) Program and Cultural Exchange Activities at KMUTNB
During 24 – 30 September 2022, 8 selected students from the Kyushu Institute of Technology visited KMUTNB as a part of the Project-Based Learning (PBL) Program which was organized by the cooperation between the Department of Production and Robotics Engineering, Faculty of Engineering and Kyushu Institute of Technology, Japan. Later, the KMUTNB students will attend the program at Kyutech, Japan, and the students from both institutions will work together to design and build a robot which will be submitted to the robotic contest in January 2023.
On 27 September, 8 students from the PBL Program and other 3 Master's degree students from Kyutech participated in workshops and cultural exchange activities organized by International Cooperation Centre. They attended an introduction to Thai culture and language class, and Thai cooking class. They also visit Language Club, Thai Classic Music Club and Thai Boxing Club. The Japanese had a chance to try cooking Thai dishes, playing language games, playing Thai musical instruments and practicing Thai boxing.
Gallery