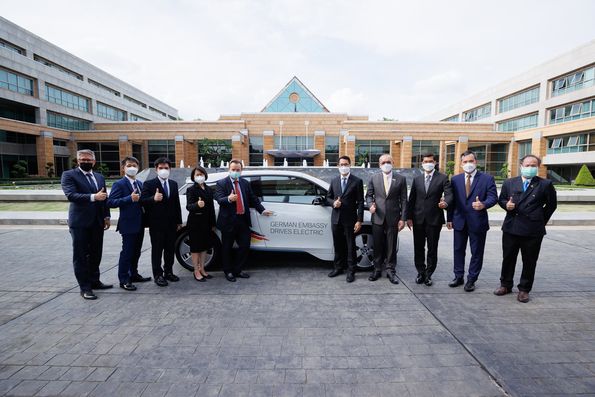 KMUTNB Collaborates with Two Partners to Organize "The EV Hackathon for Sustainability #EV4Sustain" for Commemorating the 160th Anniversary of Thai-German Diplomatic Relations
On 2 June 2022, at a press conference room, Ministry of Foreign Affairs, Prof. Dr.-Ing. habil. Suchart Siengchin, KMUTNB President, attended the press conference to announce the organization of the EV Hackathon: "Future EV Mobility Creative Contest for Sustainability," which will be held by the cooperation between the Ministry of Foreign Affairs and the German Embassy in Bangkok to celebrate the 160th anniversary of Thai-German diplomatic relations. The press conference was also attended by H.E. Mr Georg Schmidt – The German Ambassador to Thailand and Mr. Asi Mamanee, Director-General of the Department of European Affairs, Ministry of Foreign Affairs, Mr. Suttipong Chalermkiat, Assistant Governor for Sustainability Management of the Electricity Generating Authority of Thailand (EGAT), Mr. Krisda Utamote, Director Corporate Communications BMW GROUP THAILAND, and also the president of the Electric Vehicles Association of Thailand. The EV Hackathon, which aims to commemorate the 160th anniversary of Thai-German diplomatic relations and promote the public awareness about the advantage and importance of electric vehicle, is sponsored and supported by partners, such as EGAT, KMUTNB's Alumni Association, BMW GROUP THAILAND and Mercedes-Benz Thailand.
Also, this contest aims to spark the young generation's interests in EV technology and also raise public awareness about the sustainability of clean energy. This will contribute to prepare the future human resources for the EV industry which will become increasingly important due to the 30/30 policy of the Government of Thailand targeting to push Thailand towards having at least 30% of Zero Emission Vehicle (ZEV) from the total domestic vehicle production by 2030. This EV Hackathon will be held from June – August 2022 for students between the ages of 18 and 35. The teams of contestant will attend the online training program and only the last 8 teams will go into the final round of EV Hackathon held between 27 – 28 August 2022 at King Mongkut's University of Technology North Bangkok. The winning team will receive a prize money of 250,000 THB. The call for application is open from now on until 30 June 2022.
For further information, please contact the Thai-German Graduate School of Engineering (TGGS), Tel: 0-2555-2000 Ext: 2926 or visit the following website https://ev4sustain.kmutnb.ac.th/
Gallery