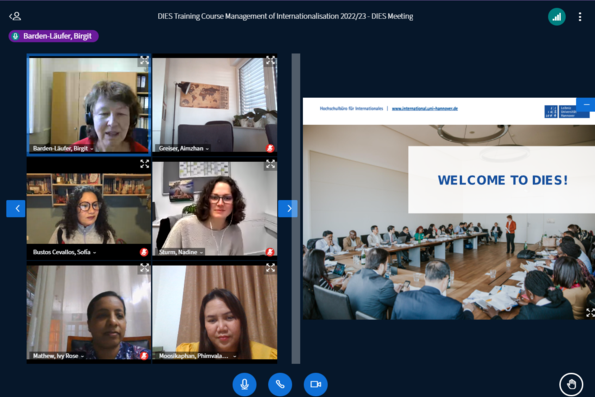 KMUTNB to Be Selected to Join the DIES Training Course on "Management of Internationalization" 2022–2023
During March 2022 – March 2023, Ms. Phimvalanch Moosikaphan, Director of International Cooperation Centre, Office of the President, has been selected to represent King's Mongkut's University of Technology North Bangkok (KMUTNB) in the DIES Training Course on "Management of Internationalization" 2022–2023, which has been organized by the collaboration of Leibniz University Hannover, the German Academic Exchange Service (DAAD), and the German Rectors' Conference (HRK).
This training program is divided into a series of three workshops. The 1st workshop has been held between 7 – 18 March 2022 and focused on Internationalization Concepts & Systems, needed skills for internationalization works. From 17 – 21 October 2022, the 2nd workshop with an emphasis on Regional Workshop will be held at Manipal, India, for the participants from Asia. Later, the 3rd Workshop focusing on Internationalization Project will be organized at Hannover, Germany, in March 2023.
The key objective of the training course is to develop the competencies that enhance the performance of university staff (either International Office staff or higher education managers responsible for coordinating international activities) from selected countries of Africa, Latin America, and Asia in managing processes and tasks of internationalization in the area of higher education. The programme will enable the participants to build up improved and more effective structures and procedures of internationalization at their home universities. Each participant will develop and work on an Internationalization Project that fits their position and institutional goals.
The program is attended by the selected delegates from 30 leading universities across the world, including Botho University (Botswana), Mansoura University (Egypt), Bahir Dar University (Ethiopia), St. Monica's College of Education (Ghana), Ghana Institute of Journalism (Ghana), University of Malawi (Malawi), Steelenbosch University (South Africa), University of Zululand (South Africa), Mangosuthu University of Technology (South Africa), Harare Institute of Technology (Zimbabwe), Fundacion Universitaria Juan N. Corpas (Colombia), Universidad Catolica de Manizales (Colombia), Universidad Nacional (Costa Rica), Agrarian University of Havana Fructuoso Rodrigue Perez (Cuba), Pontificia Universidad Católica del Ecuador (Ecuador), Universidad Nacional Autonoma de Honduras (Honduras), Instituto Tecnológico de Puebla (Mexico), Tecnológico de Monterrey (Mexico), Universidad de Piura (Peru), Bharathiar University (India), Indian Institute of Technology Kharagpur (India), Indian Institute of Technology Roorkee (India), Diponegoro University (Indonesia), Universitas Negeri Manado (Indonesia), Universiti Kebangsaan Malaysia (Malaysia), Yangon University of Foreign languages (Myanmar), Banking Academy of Vietnam (Vietnam), Hanoi University of Mining and Geology (Vietnam) and King Mongkut's University of Technology North Bangkok or KMUTNB (Thailand).
Gallery