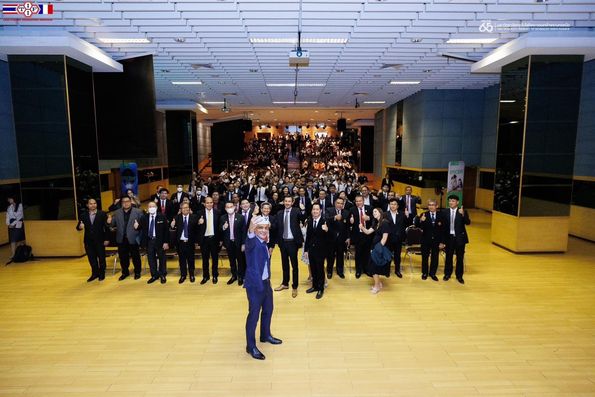 Leading Experts Gather for Special Lecture on Sustainability and Technological Advancements at KMUTNB
On 20 September 2023, Benjarat Hall, Navamindrarajini Building, King Mongkut's University of Technology North Bangkok (KMUTNB) hosted a special lecture centered around the theme of "Sustainability: Climate change and our responsibility, which is in line with the university's commitment to sustainability and environmental stewardship. The event was aimed to be a platform for experts and academics to discuss pressing issues, share knowledge, and work towards a more sustainable future. The opening and welcome speech was delivered by Prof. Dr. Somrerk Chandra-ambhorn, Vice President for Research and Information Technology Development at KMUTNB.
On this occasion, Asst. Prof. Dr. Pornsak Srisungsitthisunti, the Director of "Thai-French Innovation Institute" (TFII), gave the introduction of TFII and its role in promoting innovative solutions and collaborative efforts in sustainability. Then, Mr. Panit Kiattiwut, Senior Talent Acquisition Business Partner at Schneider Electric, took the stage to introduce Schneider Electric and their contributions to sustainable solutions. The main lecture, titled "Sustainability: Climate change and our responsibility," was delivered by Ms. Anh-Ha DELEGUE ep. DE FOUCAULD, Sustainability and Business Development Director for Thailand, Myanmar, and Laos cluster. Her speech highlighted the urgency of addressing climate change and emphasized individual and collective responsibility in achieving sustainability goals. Mr. Jean Pascal Tricoire, Chairman of Schneider Electric, also delivered a captivating lecture.
The day's program concluded with a series of lectures on technological advancements from the Thai-French Innovation Institute:
1. Welding Technology Department by Mr. Surachet Kaewngam.
2. Corrosion Technology Department by Mr. Noparat Kanjanaprayut.
3. Electrical and Energy Technology Department by Mr. Sarayuth Maneengam.
4. Research, Development, and Technological Transfer Department by Mr. Burin Yodwong.
5. Computer for Industrial Applications Department by Mr. Akachai Klinbumrung.
6. Automated Manufacturing Systems Department by Mr. Thaweewat Athan.
These presentations demonstrated the innovative research and developments taking place at KMUTNB and TFII. The special lecture served as a testament to the KMUTNB's commitment to sustainability and innovation.
Gallery