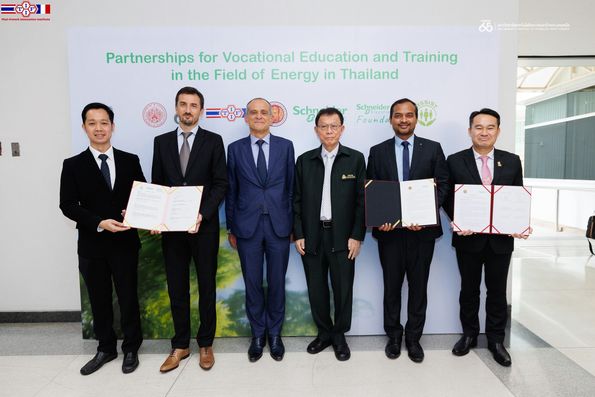 KMUTNB and Partners Pave the Way for Sustainable Knowledge Transfer and Technological Advancement
On 20 September 2566, at Ratchapruk Meeting Room, Navamindrarajini Building, King Mongkut's University of Technology North Bangkok (KMUTNB), the Asia Society for Social Improvement and Sustainable Transformation (ASSIST), Schneider Electric, UNESCO, and Vocational Institutes affiliated to Office of the Vocational Education Commission have laid the foundation for the academic collaboration by signing 1 MOA and 2 MOUs between 5 parties which was aimed for promoting the development of education and innovation in Thailand. The agreement signing ceremony was attended by a distinguished leaders and representatives from various organizations, including the Office of the Vocational Education Commission, Schneider Electric, Schneider Electric Foundation, UNESCO, and of course, KMUTNB and ASSIST.
The ceremony commenced with a warm welcome from Prof. Dr. Teravuti Boonyasopon, Chairman of KMUTNB Council Committee. The Schneider Electric was represented by Mr. Jean-Pascal Tricoire, Chairman of Schneider Electric and President of Schneider Electric Foundation, and Mr. Stephane Nuss, Cluster President for Thailand, Myanmar, and Laos. The UNESCO was represented by Ms. Rika Yorozu, Head and Regional Programme Coordinator. The Office of the Vocational Education Commission was led by Mr. Sanga Taechersai, Deputy Secretary General of Vocational Education Commission, while the ASSIST was represented by Mr. Arumugaraj Davitdurai Pandian, Project Director.
These agreements symbolize the commitment of the parties involved to advance innovation and sustainability in Thailand. The agreements signed during this ceremony are seen as blueprints for a brighter, more sustainable future for knowledge and technology transfer. They represent a shared commitment to discovery, creativity, and positive development for society.
As a final highlight, all attendees were invited to visit the designated area for the TFII-Schneider Center of Excellence at the Thai-French Innovation Institute. The collaboration between Schneider Electric and KMUTNB led to the establishment of the "TFII-Schneider Center of Excellence" in Electrical, Electronic, Control Systems Engineering, and Renewable Energy.
Gallery