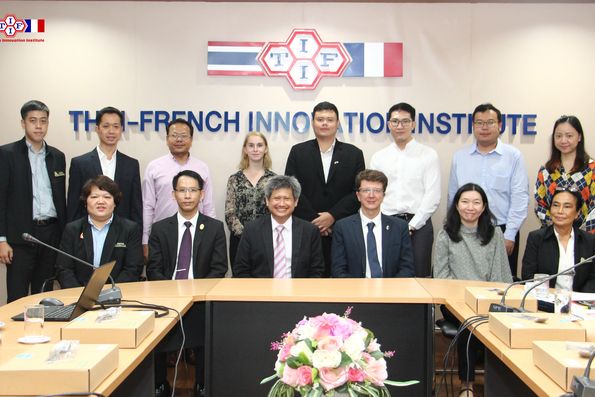 The Delegates from French Embassy to Visit KMUTNB
On 5 October 2022, at ROOM 205, TFII Building, Mr. Xavier GROSMAITRE, Attaché for Scientific and Higher Education Cooperation and the team of delegates from French Embassy visited KMUTNB and had a meeting with the team of KMUTNB's executives led by Prof. Dr. Somrerk Chandra-ambhorn, Vice President for Research and Information Technology Development, Prof. Dr. Saowanit Sukparungsee, Vice President of Academic Affairs, and Ms. Sikan Kulchonchan, Vice President for International Affairs.
Since the opening of Thai-French Innovation Institute in 1992, KMUTNB has formalized meaningful cooperation with French partners, and they have been developed through times. Especially, the development of human resources is one among outstanding achievements of KMUTNB and French partners. Until the present day, over 30 faculty members of KMUTNB received scholarships and graduated from France. Now, they become the university's executives and also the current administrator of TFII.
The visit from the delegates of French Embassy was a great opportunity for both sides to explore the possibility to strengthen or extend the existing collaborations. The meeting discusses about the new potential areas to intensify the academic cooperation between KMUTNB and French partners. Also, the KMUTNB's lecturers who graduated from France or received scholarships coordinated by Campus France also participated in the meeting.
Gallery