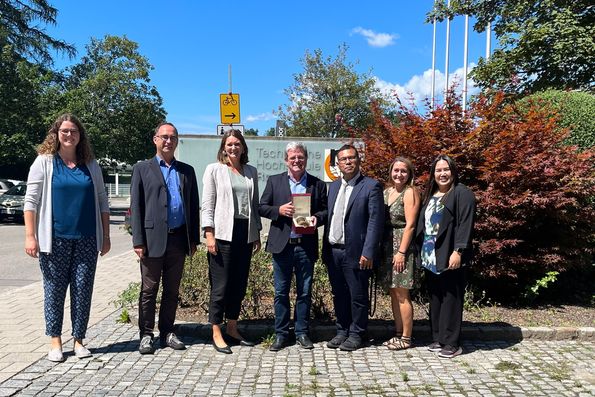 The Delegation from KMUTNB Visits TH-Rosenheim, Germany
On 1 August 2022, Assoc. Prof. Dr. Pichet Sriyanyoung, Dean of International College and Ms. Phimvalanch Moosikaphan, Director of International Cooperation Centre (ICC), KMUTNB, visited and had a meeting with the team of Rosenheim University of Applied Sciences (TH-Rosenheim), Germany, in order to discuss about the progress of existing collaborations and explore the potential areas for developing further collaborations.
At this occasion, the delegates from KMUTNB was warmly welcomed by Prof. Heinrich Köster, President of TH-Rosenheim, and the team of TH-Rosenheim, including Prof. Dr. Stephan Hornig, Vice Dean of the Faculty of Business Administration, Prof. Dr. Carolin Fleischmann, International Management of the Faculty of Business Administration, Ms. Tamara Hormaier and Ms.Andschana Mendes, officers in charge of managing Inbound & Outbound Exchange Students of TH-Rosenheim.
In October 2022, TH-Rosenheim will welcome two students of KMUTNB to participate in the student mobility program for one semester. The two students will also receive scholarships from DAAD which will be coordinated by the International Office of TH-Rosenheim.
Gallery