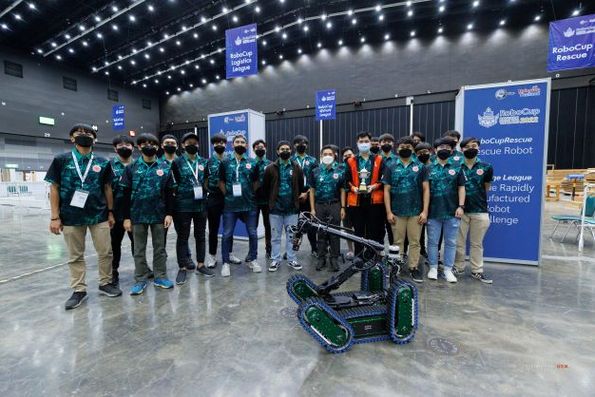 KMUTNB's iRAP Robot Team Wins the Second Place at the "World RoboCup Rescue 2022"
The KMUTNB students who are members of the iRAP Robot team won the second place in the "World RoboCup Rescue 2022" competition which was held during 13-16 July 2022, at Bitec Bangna, and the competition was attended by 14 teams from 10 countries, such as Australia, Canada, China, Germany, Japan, South Korea, Turkey, England, U.S. and Thailand. The Shinobi team from Japan won the first place, while the iRap Robot team from Thailand won the second place and the Hector team from Germany won the third place.
The "World RoboCup 2022" Competition was organized by Mahidol University, the Ministry of Higher Education, Science, Research and Innovation, members of the educational institutions with backgrounds in Automatic engineering and partners form the government and private sectors. This competition was aimed to manifest the potential of Thailand in AI technology and to reflect the readiness of Thailand in the arrangement of international competition after the outbreak of COVID-19. This competition will encourage the industrial sector to promote the quality of goods and services through the application of advanced technologies. The iRAP Robot team members are students of the College of Industrial Technology and Faculty of Engineering.
The team's supervisors and advisors included Assoc. Prof. Dr. Teerawat Boonyasopon, Assistant to the President for Student Affairs and Alumni Relations, Asst. Prof. Dr. Amornphun Phunopas, Deputy Dean to Robotic technology, Asst. Prof. Dr. Wisanu Jitviriya, Asst. Prof. Chatchai Sermpongpan, Dr. Jiraphan Inthiam, Mr. Noppadol Pudchuen, Dr. Aran Blattler.
Gallery