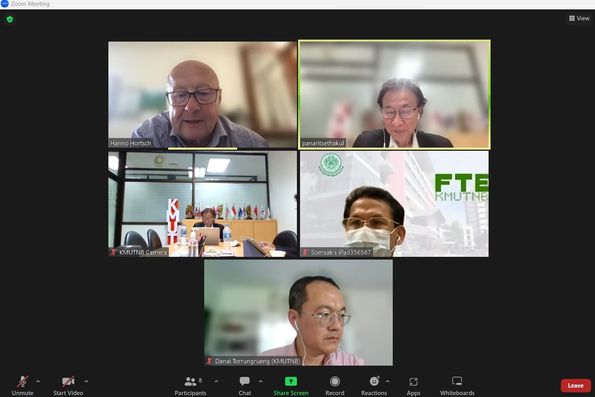 KMUTNB Hosts IGIP-KMUTNB Online Workshop on International Engineering Educator Course Accreditation
On 1 June 2023, King Mongkut's University of Technology North Bangkok organized the IGIP-KMUTNB online workshop for the Implementation of the IGIP Training Centre. The workshop aimed to establish the curriculum and guidelines for the Education, Examination, and Qualification of the International Engineering Educator Course, in accordance with the "IGIP Criteria for Accreditation of Engineering Pedagogy Studies" approved by the IGIP Executive Committee.
The attendees included Professor Hanno Hortsch, former IGIP President, and a team of KMUTNB executives and faculty members. Notably present were Ms. Sikan Kulchonchan, Vice President for International Affairs, Asst. Prof. Dr. Panarit Sethakul, Chair of National Branches of IGIP Thailand, Assoc. Prof. Dr. Somsak Akatimagool, Assoc. Prof. Dr. Titipong Lertwiriyaprapa, and Prof. Dr. Danai Torrungrueng.
The IGIP-KMUTNB Workshop marked a significant milestone for KMUTNB, as the university has been an institutional member and the National Section of the International Society for Engineering Education for years. By hosting this workshop, KMUTNB reaffirmed its commitment to fostering excellence in engineering pedagogy and promoting global standards in engineering education. The main focus of the workshop was to develop a comprehensive framework for the International Engineering Educator Course, which will lay the foundation for training and accrediting educators in the field of engineering.
Gallery