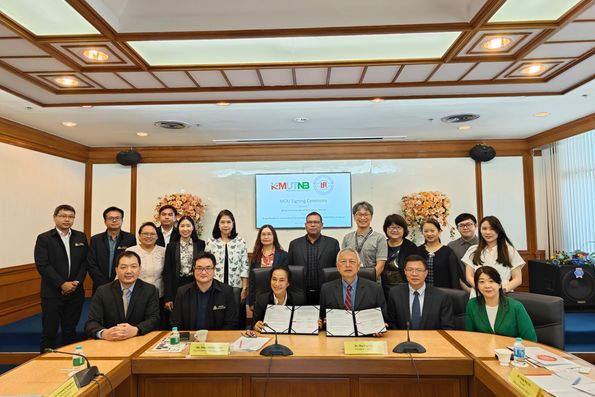 KMUTNB and Ming Chi University of Technology (MCUT), Taiwan, Sign MoU to Enhance Academic Cooperation
On 22 March 2023, at Ratchaphruek Meeting Room, Navamindra Rajini Building, the MoU signing ceremony between KMUTNB and Ming Chi University of Technology (MCUT), Taiwan, was held to officially establish the partnership to enhance their cooperation in various academic fields. The ceremony was presided over by Dr. Thu-Hua Liu, President of MCUT, Taiwan, and Ms. Sikan Kulchonchan, KMUTNB's Vice President for International Affairs.
The delegation from MCUT included Dr. Fong-Rey Liu, Provost, Dr. Chieh-Lan Li, Dean of Office of International Affairs, and a team of faculty members. On the other side, the KMUTNB attendees were Asst. Prof. Dr. Peerapong Pornwongthong, Assistant to the President for Research and Innovation Development, Assoc. Prof. Dr. Pichet Sriyanyong, Dean of International College, Assoc. Prof. Dr. Kittichai Thanasupsin, Dean of Faculty of Engineering, and his team, including Asst. Prof. Dr. Tanaporn Rojhirunsakool, Asst. Prof. Dr. Pongsak Nimdum, Asst. Prof. Dr. Thotsaphon Threrujirapapong, Asst. Prof. Dr. Cattareeya Suwannasri, Dr. Jakkrawut Maitip, Faculty of Science, Energy and Environment, and Asst. Prof. Dr. Jutharat Pinthapataya, Faculty of Business and Industrial Development.
The signing of the MoU signifies a commitment to collaborate on various academic programs and research projects. Both institutions expressed their interest in initiating the cooperation in the 3+2 program. This program offers undergraduate students the opportunity to study for three years in their home institution and then transfer to a partner institution for the final two years to complete a bachelor's degree.
After the MoU signing ceremony, the executives and faculty members of the two institutions had a fruitful meeting together. The MoU signing ceremony between KMUTNB and MCUT is expected to strengthen the academic partnership between the two institutions and create new opportunities for students and faculty members to gain international experience and broaden their perspectives.
Gallery