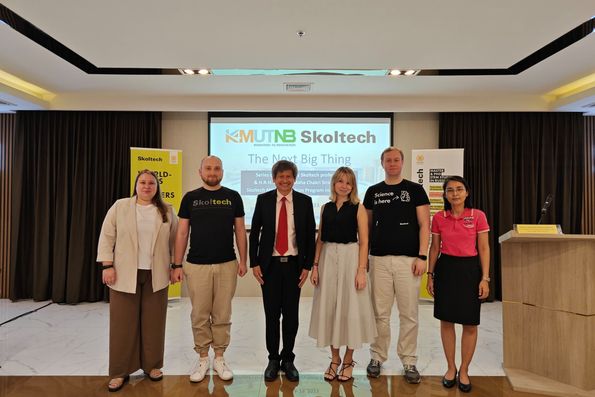 KMUTNB Welcomes Skoltech Faculty Members for Guest Lecture on Next-Generation Technologies
On 29 March 2023, KMUTNB hosted a team of faculty members from the Skolkovo Institute of Science and Technology (Skoltech) for a guest lecture session titled "The Next Big Thing." The lecture aimed to provide students and researchers at KMUTNB with insights into the latest advancements in technology and research.
The Skoltech delegation included Prof. Elena Gryazina, Prof. Alexey Frolov, Ms. Natalia Galochkina, and Ms. Denis Stolyarov, who were warmly welcomed by Prof. Dr. Somrerk Chandra-ambhorn, KMUTNB Vice President for Research and Information Technology Development. During the session, the Skoltech professors introduced the H.R.H. Princess Maha Chakri Sirindhorn Scholarship, which is provided to Thai students.
The session covered a wide range of topics, including "Smart House Devices and Coordinating EV Charging Protocols for Grid Flexibility" by Skoltech Professor Elena Gryazina and "Machine Learning in 5G/6G Protocols" by Skoltech Professor Alexey Frolov. The event was a part of KMUTNB's ongoing efforts to foster collaborations and partnerships with leading international institutions, and to provide students and researchers with access to cutting-edge research and technology.
Gallery